Improve Your Interior Design with Luxury Vinyl Flooring in Lloydminster, AB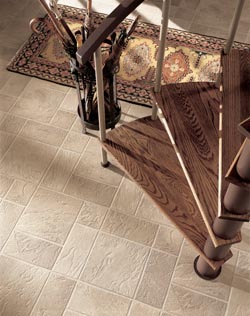 Enhance the look, appeal, and value of your home at Paramount Flooring. We are your destination for luxury vinyl flooring in Lloydminster, AB. When you visit our showroom, you take smart steps towards improving your home flooring. Thanks to our extensive catalogue, knowledgeable support teams, and personalized approach to service, complete remodelling projects has never been easier.
Our showroom features a variety of luxury vinyl tile and plank products from the leading manufacturers. This extensive product selection includes flooring in a dazzling array of designs, patterns, colours, and styles. Whether you are re-flooring a single room or your entire property, we are confident you will find your new favourite flooring when you shop with us.


Luxury Vinyl Is Form and Function at Its Finest
Luxury vinyl is available in plank and tile form: also known as LVP and LVT, respectively. With this flooring material, you can take your remodelling ideas further. Homeowners have come to trust this flooring type for its aesthetic appeal, strength, and ease of maintenance. Let's go over the benefits in detail:
Aesthetics: Luxury vinyl plank flooring and its tile counterpart are available in different designs. Thanks to contemporary manufacturing and design methods, this flooring type successfully imitates the appearance--and texture--of materials like solid hardwood and ceramic. Whether for the common areas or the bathroom, you will find luxury vinyl that will meet your interior design goals.
Durability: Luxury vinyl is known as resilient flooring, thanks to its tough construction. It is comprised of composite materials and has a solid surface. As a result, this material resists impacts, scratches, scrapes, and bumps easily. Thanks to its durability, luxury vinyl goes well in any room, including high-traffic zones like the hallway and kitchen.
Ease of Maintenance: Luxury vinyl's solid surface repels dust, dirt, and water easily. As a result, stains have a hard time staying on this flooring. You will spend less time and energy cleaning your luxury vinyl, and more time doing what you love. Since luxury vinyl is easy to clean, it is a favourite amongst homeowners with children and pets.


Installation Services Available
Complete your remodelling project and attain long-lasting results. A successful installation ensures the lasting beauty and strength of your investment. Our showroom is committed to helping each detail of your project go well. To that end, we provide luxury vinyl tile and plank installation.
We have a team of installation professionals on staff to complete re-flooring projects of virtually any size and scope. Getting picture-perfect interiors begins at our showroom. Our knowledgeable and helpful associates facilitate flooring consultations, where we will work out the details of your project. From start to finish, we are here to assist you in completing your project quickly and seamlessly.



Contact us to learn more about our luxury vinyl flooring selection. We proudly serve customers in Lloydminster, AB, as well as Vermilion, Wainwright, Provost, Bonnyville, and the surrounding areas.