What's the Best Flooring to Use in a Kitchen?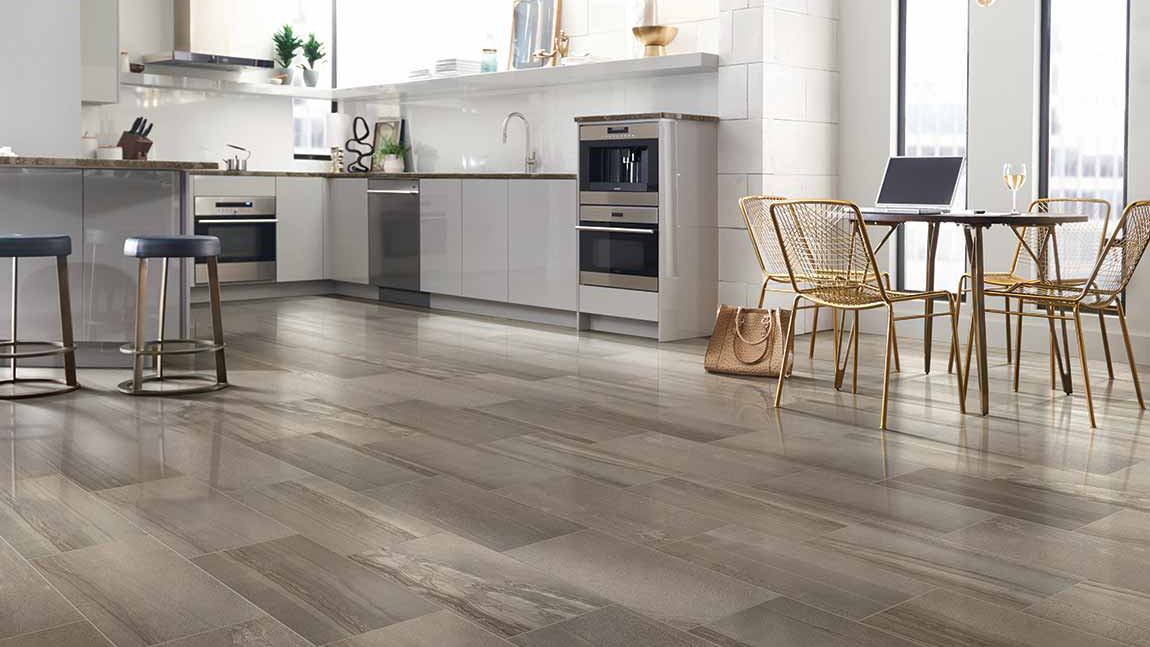 The best flooring to use in a kitchen is flooring that is durable and water-resistant, with options like:
Tile
Hardwood
Luxury Vinyl
Laminate
Your ideal kitchen floors should also fit into your budget range and be in a color and style that you love. While shopping for your dream kitchen floors, you'll want to keep the following in mind:
The kitchen is often the room in your house that receives the most activity. Therefore, durability is key, as is ease of cleaning. The more durable and easy-to-maintain your kitchen floor is, the better.
Having waterproof or water-resistant floors is so important in the kitchen, where spills and leaks are bound to happen. You'll want to look for floors that will hold up to accidents.
Obviously, you want to love your new kitchen flooring. So daydream a bit about your vision for your perfect kitchen. Do you want something modern and bright? Or more rustic—a bit more like a country home? Take into account your square footage, as well as what you're currently working with in your home when it comes to kitchen furniture, paint colors, and patterns.
Budget is, of course, something else to keep in mind. Are you just replacing your kitchen floors or doing an entire design overhaul, with new cabinets and appliances as well? You'll want to keep in mind delivery and installation costs, too.
With these guidelines on your shopping list, let's look closer at some of the many options on the market for your best kitchen flooring:
Tile
Tile is a timeless option for beautiful kitchen floors. It's super durable, waterproof, easy to clean, and comes in so many different styles and sizes. And, especially in warmer climates, it's a great way to keep a home cool.
Hardwood
Nothing beats the beauty of real hardwood floors in a kitchen. Plus, hardwood floors are durable, easy to sweep, and, with a good finish coated on top, quite stain-resistant. Hardwood floors are a bit more prone to staining if spills are not cleaned up quickly, but that's a small price to pay for the wonderful warmth and ambience they can bring to your kitchen.
Luxury Vinyl
Luxury vinyl is another great choice for kitchen floors. Luxury vinyl floors are incredibly durable and easy to clean, and they're waterproof and stain-proof. If you have little kids in your home, luxury vinyl is a great choice. It's also a bit softer than some other flooring options, so it feels good on the feet. Best of all: A lot of luxury vinyl options now can mimic hardwood, tile, and stone floors. And it's great for those who are budget-conscious, too.
Laminate
Laminate is also a smart idea for your new kitchen floors. Laminate flooring is a great solution for active families, as it's both long-lasting and low-maintenance. Plus, like luxury vinyl, laminate flooring now comes in an array of beautiful styles that might surprise you. And it's another wallet-friendly option, as well.